Computer Repair Shop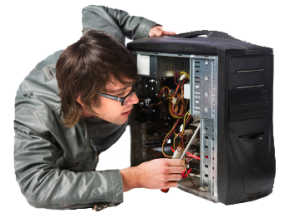 Do you ever wonder where a lot of these computer repair technicians advertising on-site services are based? Who's backing them? Are they knowledgeable? Honest? Insured? Are you concerned about hiring a complete stranger to come out to your home or place of business? If so, consider dropping by Oaks Data's Computer Repair Shop in Westlake Village.
We'll diagnose your computer problem in our shop for FREE!
At Oaks Data Systems, we deal in efficiency.

Oaks Data is an established local business serving clients from Westlake Village, Thousand Oaks, Agoura Hills, Moorpark, Simi Valley, Camarillo, Calabasas, Malibu and beyond since 1996! We invite you to visit us and determine for yourself if we are the right company for you. Feel free to bring your desktop, notebook and whatever other computer devices you are having problems with. Or just come by and meet us before sending us out to your location.

When you bring your computer or peripheral to us, we'll tell you exactly what's wrong with it and what it will cost to repair – up front.
No obligations, no hidden fees & no surprises. WE GUARANTEE IT!
Some of the many repair shop services we offer include:
Computer Tune-ups
Data Backups and Recovery
Hardware Upgrades
Troubleshooting and Repairs
New operating system installations and upgrades
Software and Hardware diagnostics and repair
Internal and External component cleaning
Anti-virus and Internet Security Solutions
Virus, Malware, and Spyware Removal
Operating system upgrades
Blue Screen and Corrupted OS Recovery
Data transfer from old computer to new computer
Smartphone & Tablet Support
Printer & Scanner support
Computer & Software Training
E-mail set up
Electronics Recycling
We fix computers to get you up and running again. For more information about the top computer repair service in the Southern California area, contact us at 805.777.8877.